Army ASVAB
The ASVAB (Armed Services Vocational Aptitude Battery) is a multiple choice test, administered by MEPS, used to determine qualification for enlistment in the United States Army, and other military branches. It is often offered to American high school students when they are in the 10th, 11th and 12th grade, though anyone eligible for enlistment may take it.
Now for the people who have test anxiety, you have nothing to worry about. The test is given in two forms, either on paper (by coloring in multiple-choice circles), or on a computer. Depending on where you take the test will determine which test you take. Both tests are pretty much the same, so if you get one or the other, it's ok. The questions start out real easy and gradually get harder. The ASVAB simply wants to see what subjects you're strongest and weakest at.
The Ultimate ASVAB Improvement Course
Real ASVAB questions, timed tests, studying materials, and more. You can get your best ASVAB score with a little hard work and dedication!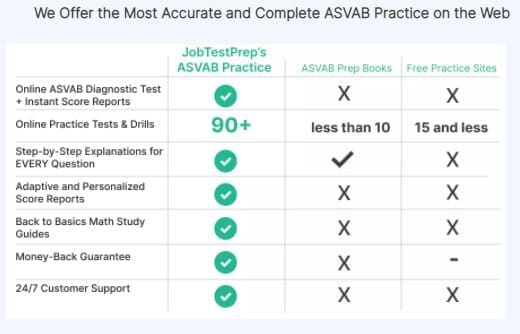 Click to get our brand new ASVAB Prep Course! This course is the #1 course related to improving scores for your ASVAB and passing it the first time! We've helped over 300 future soldiers pass the ASVAB since we started offering this in November 2020!
Best books for studying for the ASVAB
Obviously, you want to get the best ASVAB score possible (which is a 99). ALL Army Jobs (MOS) have an ASVAB score requirement which varies depending on the MOS you're wanting to enlist. So to be safe, you'll want to study as much as you can. Below are two books that have been suggested by our readers in order to help you pass with flying colors. These books are aimed at helping you pass the ASVAB while at the same time attaining the best score you can
Other ASVAB Books
Obviously, everyone learns differently, so I've compiled a list of (user recommended) top study guides. When a reader of USArmyBasic tries a new book, and it works for them, they usually like to tell us about it. We want to turn around, put it on our site, and let you see what other great ASVAB books are out there and available. Also, check out our list of top ASVAB Study Guides and start learning.