ASVAB Study Guides
Get your best ASVAB score
An ASVAB Study Guide is essential if you are wanting to get a great ASVAB score. According to the readers of USArmyBasic.com, below are the top ASVAB study guides available online. Each ASVAB study guide we have listed below has helped countless people prepare and pass the ASVAB test before starting their US Army Basic Training career. If you have any questions about an ASVAB study guide listed below, or if you would like to suggest one on your favorite study guides, please contact us on Facebook or Twitter!
Caution!
You are only allowed to pass the ASVAB once every 6 months. So unless you fail the ASVAB, don't think you'll be taking it multiple times to improve your score! Use an ASVAB study guide below and get it right the first time so you can move on to bigger and better things in the Army!
Recommended ASVAB Study Guide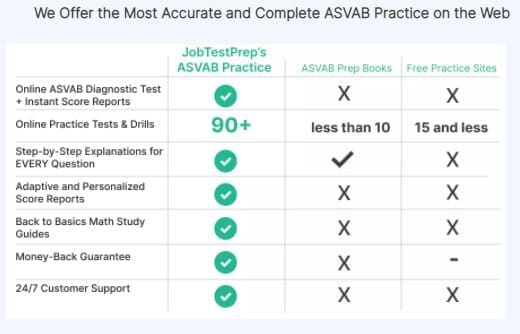 By far, this is our highest recommended prep course for ASVAB.
Weekly and Monthly subscriptions available to ensure you PASS THE ASVAB THE FIRST TIME!
Get the ASVAB Prep Course
Practice Taking Real-World ASVAB Tests
We offer a complete
ASVAB Practice Test
system which includes a full-length, 9 subject, 3 hour ASVAB test which will give you the study tools and confidence you need to pass the ASVAB with ease.
Other top ASVAB Study Guides
Choose from one of the ASVAB study guides below, each have their own uniqueness to them and help people in their own ways. There is only way to ensure that you will pass the ASVAB, and that is with an ASVAB study guide. Otherwise, you're just hoping you pass it. Remember, you can only pass the ASVAB once every 6 months! So get it right the first time and get on with your Army career!
<a href="http://ws.amazon.com/widgets/q?rt=tf_cw&ServiceVersion=20070822&MarketPlace=US&ID=V20070822%2FUS%2Fusacom09-20%2F8010%2F98200096-192e-494b-b56f-af2211e3b29e&Operation=NoScript">Amazon.com Widgets</a><br />